"How I went from ZERO clients to getting a single portrait client to spend $10,000 and how you can do the same ..."
No matter what photography genre, what marketing experience you have or how much money is in your marketing budget ...
You are about to discover 25+ proven strategies for booking more DREAM clients, increasing your sales and levelling up your photography business ...
Mark Has Been Featured In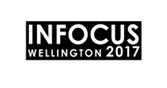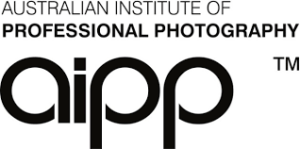 Hi! It's Mark Rossetto here.
Photography Business Coach and Master Photographer.
"How do I get clients through the door" is the number one question I get asked by photographers from all around the world.
What if I told you that it's easier than you think and that building a Marketing System that is a lead generating and sales machine for your business is just a few steps away?
I have built and scaled a thriving 6-figure Photography Studio in a notoriously competitive and oversaturated market.
And today I am going to reveal how YOU can "Master Your Marketing" and scale your Photography Business to levels you never thought possible.
"Master Your Marketing" is an online "training on-demand" course with more than 50 videos and hours upon hours of photography marketing gold.
This is for you if you're looking to start a photography business, but don't know how to put yourself out there and turn your love for photography into a successful business.
This is also for you if you already have a successful photography studio and are looking to scale up and take it to the next level.
You might be a Newborn Photographer, you might be Family Photographer, a Pet or Personal Branding Photographer. You might be an IPS based business or sell collections and packages up front.
We are all in the same boat of being in an incredibly competitive market and needing to attract clients to our business.
When you're starting out in business, it's really isolating.
I started with a home-based studio with only the basics and next to no marketing budget.
Then it all changes when you start getting clients through the door.
You realise this IS possible. If you can get one client … you can get two. If you can get two … you can get five. If you can get five … the possibilities are endless.
I have been at the coal face and built a successful photography studio.
I'm not just out here trying to sell an unproven marketing course not having been where you are and run a studio myself.
I am not a marketing guru. I am a photographer and business owner.
These are the EXACT strategies I use and many other of my clients, with great success.
I am going to take you by the hand and walk you through MY proven marketing strategies to start getting clients through the door and build a marketing system that will generate consistent leads to your business.
So at this stage you might be thinking, well that's great it worked for you Mark, but my business is different. It might be that you're in a small town, work from home or have no money to spend on marketing.
I can tell you right now …. they are nothing but excuses.
I have worked with clients across all photography genres and throughout the world. And those that have gone all in and fully implemented these exact strategies, have seen HUGE success.
I am really excited to be pulling back the curtain and teaching you everything I know.
So go ahead.
Take the next step and I will see you on the other side.
Today, it's YOUR turn to take control of your marketing, sales, and business success.
Does any of this sound familiar?
You're struggling to get bums on seats of dream clients for your photography business …
The few clients you actually have are family, friends and friends of friends or freebie seekers with limited budgets and unrealistic expectations …
You feel like you are on this never ending hamster wheel of fighting for every dollar in an oversaturated market of cheap, shoot and burn photographers …
You really HATE selling and have difficulties asking clients to spend what you are truly worth …
What if you could ... ?
Wake up to an inbox exploding with qualified clients who value what you do and are ready to buy?
Pick and choose who you take on as a client so you can weed out the freebie seekers and time wasters?
Feel confident in the experience and value you give so you can charge what your worth?
And imagine building your business to a point where you no longer need to worry about cashflow and if you can rent next month?
Then read every word on this page.
Sound unrealistic? A fantasy even, given the market we work in?
But it's not.
This is exactly what I did … from the ground up.
And this is exactly what I am going to teach you to do for yourself.
Whether you're waiting for your first client or you already have a few.
Or your business for what ever reason in just not growing.
The good news is, I am going to show you how to create a marketing system with proven strategies to book your DREAM clients, increase your sales and level up your photography business …
No matter what photography genre, what marketing experience you have or how much money is in your marketing budget.
The Proof? Check out what some of our students have to say!
Now let me walk you through exactly what to expect from this course.
Module 1: Welcome
Welcome and congratulations on making a huge leap forward in the success of your business. Let's get started! The below lessons will walk you though they Mark Rossetto HQ platform and what to expect from the Master Your Marketing training. With over 60+ video and the booklet of training, we want to make sure you get the knowledge and understand you need to become a Master of your Marketing!
Module 2: The Fundamentals of Sales & Marketing
It's time to get the house in order and truly understand what it takes to be a successful photography business, by setting yourself up for the win! I'm going to walk you through the client journey, buying cycles, the difference between active and passive marketing, how to create your perfect brand plus so much more. Finally, the marketing flow chart is the game changer – a step by step guide to generating from 20 – 200 leads within a few days on demand!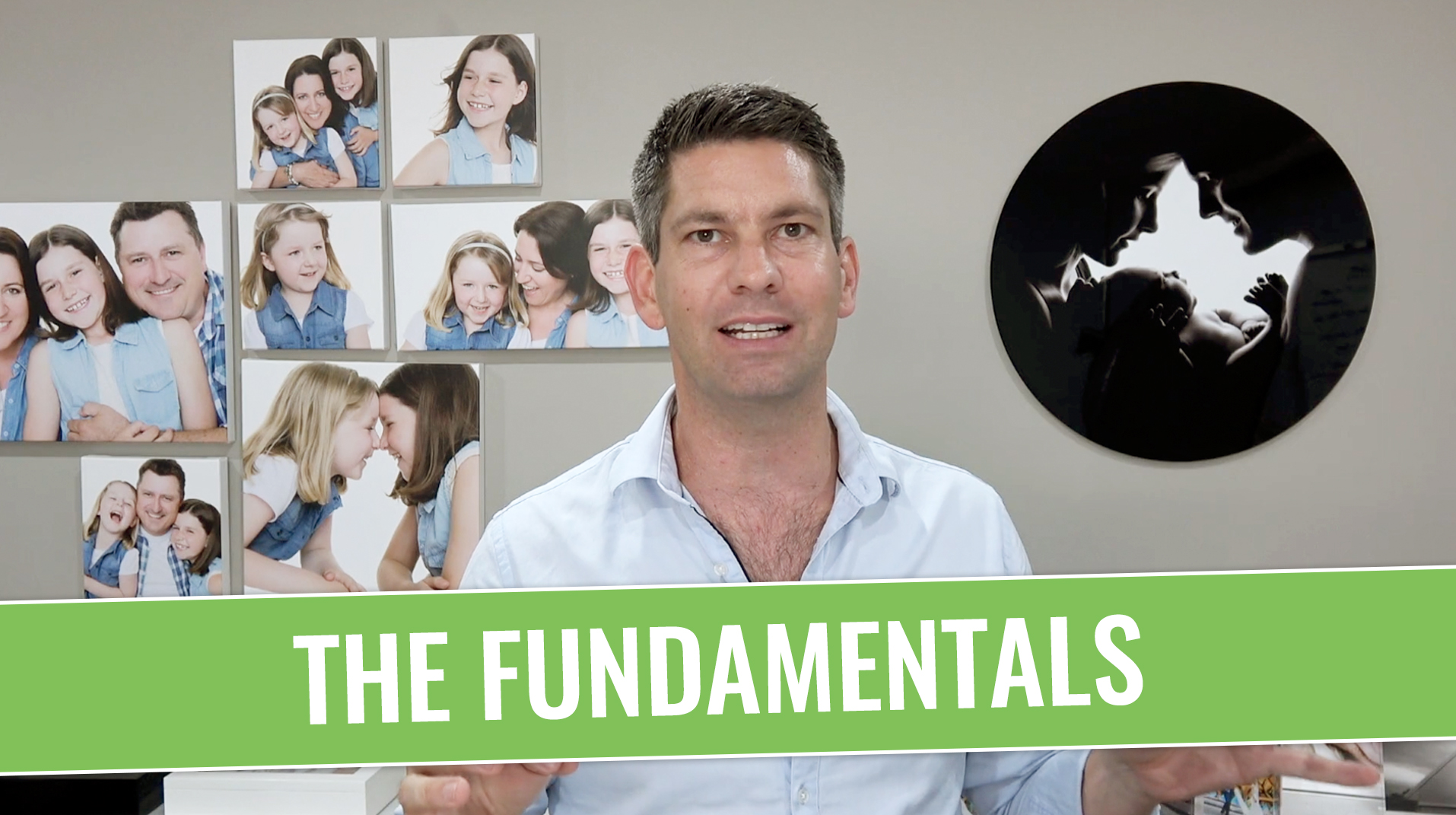 Module 3: Know Your Numbers
The numbers never lie! This is the business overview module where it's time to take control of your business. We will take your numbers and figures from the past to help plan out and forecast your future business. Once you know your numbers you can create a marketing plan with more consistency and predictability, ending the ups and downs which in turn creates less stress in your life.
Module 4: How to Craft an Offer
One of the decisions that our clients need to make when choosing a photographer is how much money they are willing to invest before the session and what's included for that fee. So how do clients choose?  With so many different marketing strategies out there, which special offer works best for which strategy? And what should the offer even include? So many questions with so many answers – we will cover many of them in this module.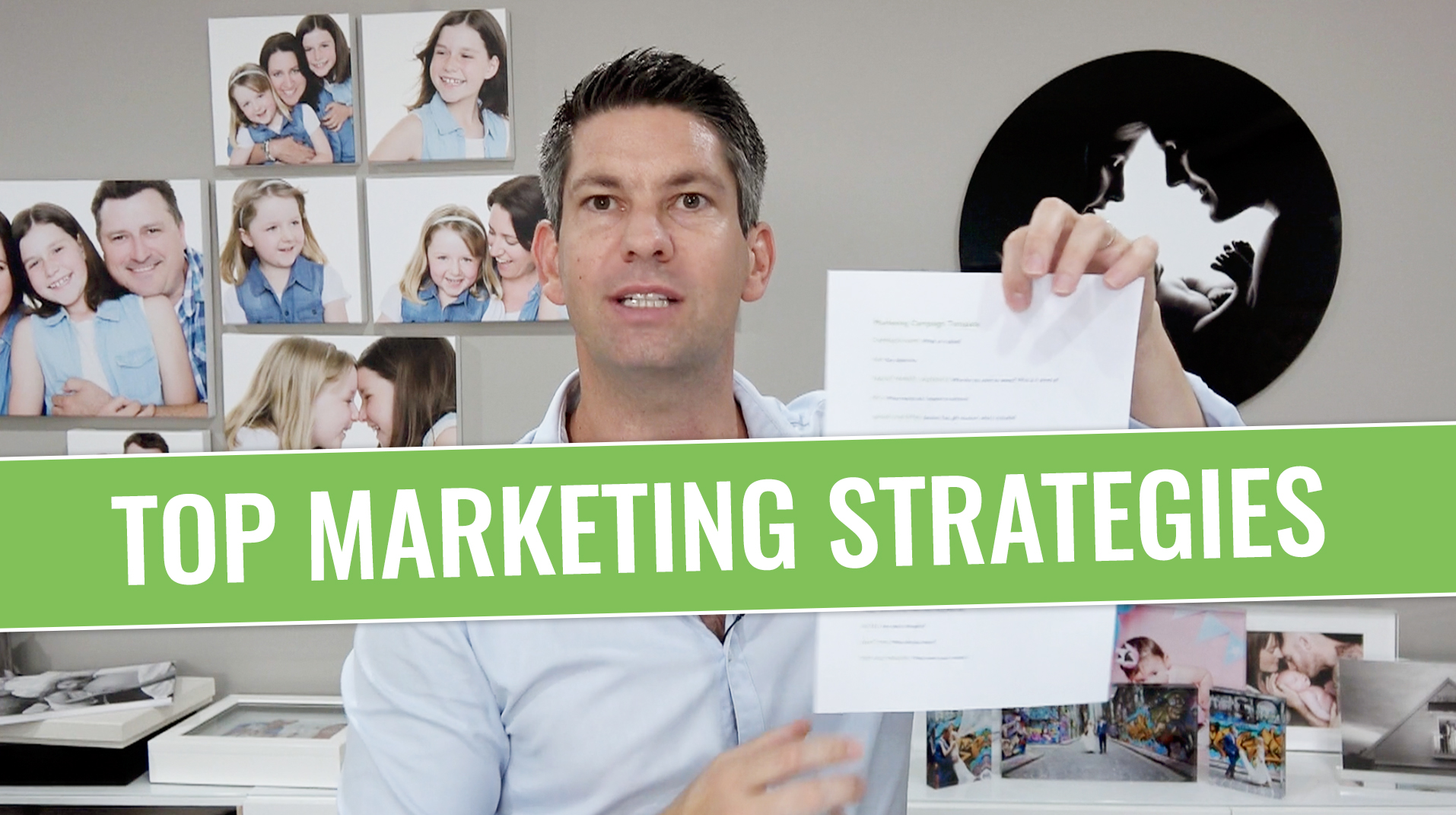 Module 5: Mark's Top Marketing Strategies
Wouldn't it be nice if you could get a step-by-step plan on exactly what to do to run Mark's top marketing campaigns? Well good news – here they are! Even if you just followed these top marketing strategies, you would have a perfect mix of passive, active, past and repeat clients.
Module 6: Even MORE Marketing Ideas
This industry is ever changing. As photographers, we need to push the boundaries of creativity and our marketing is the same. You'll notice that marketing opportunities are everywhere when you are looking for them. This module is full of marketing ideas and how to get in front of your ideal clients.
Module 7: Digital Marketing with Kylie Garner
We live in an increasingly digital world which is changing the way our customers engage with brands, receive information and make the decision to buy. Herein lies the opportunity! Technology has allowed us to find, engage and inspire people in a way that we've never seen before. So in a world of tech-savvy consumers, the power shifts to those businesses best able to build a strong brand and connect online.
Module 8: Wedding Marketing Strategies 
This module is specially created for our wedding photographers. Even though everything in this course can be simply applied to all genres with a little adjustment in wording. This has over 25 Wedding marketing ideas hints and tips specific wedding industry. There's a great mix of active and passive ideas to have clients for life, as I teach how to make the most out of combining wedding and portraits together as a business model and on your social media. This module is coming very soon.
Module 9: Create a 12 Month Marketing Plan
Creating a 12 month marketing plan is one of the biggest hurdles that photographers come up against. But with all of this new learning and once you know your numbers and truly understand what it takes to run a successful business, I can tell you it's one of the most rewarding courses you'll ever do for your business. It takes away the stress and worry of what to do, and when.
Module 10: Closing & Converting
So your marketing, brand awareness and campaigns are working perfectly and you are getting enquiries… But you are struggling to convert them into bookings. Or you don't know what to do next. I'm going to walk you through how to build rapport with your clients and how to contact with them in a whole other level. As well as my top 13 closing styles and a simple but super effective 6 part phone script that helps educate, show value and book clients with ease.
Module 11: The Wrap Up
You did it! You have completed the Master Your Marketing course! At this stage, you would be already reaping the benefits of the course and seeing results. But its not over yet! We are creating a marketing machine and nows not the time to just walk away and say "well that was fun" It's time keep your finger on the pulse and keep top of mind with your clients. To help do this we have fortnightly accountability calls to keep you connected and motivated at all times!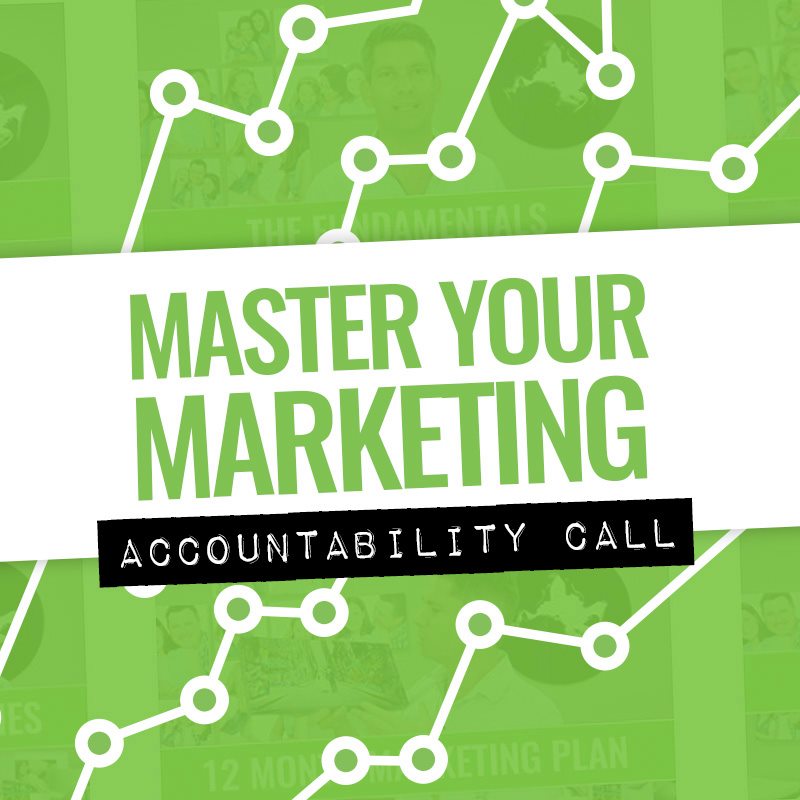 Master Your Marketing Accountability Call Webinar – Mastermind
Twice a month typically on the 1st and 3rd on Tuesday is a 1 hour accountability webinar for all members of the MYM course.
This is availabe for ALL members. Accountability time! Make sure you have printed out the accountability work sheet that you will find in MYM HQ FB group under the files. Talk about what coming up in the world of calendar and seasonal marketing. It's to stay accountable and make sure your marketing plans are on target.
Here's what you will also get when you join today:
Lifetime "On Demand" Access to Step-By-Step Video Modules 
12 x modules, with 70+ videos taught by Mark and Kylie. Each video is a short sharp lesson focused on you taking action and implementing the strategies. No annoying drip feeding of content. All training is available when you join today.
"How to Guides" – Get Started Fast 
Mark's top marketing strategies each come with a step by step "How to Guide" that you can download and implement as a SOP (standard operating procedure) in your business. No guess work. Just follow the steps and implement straight away
Learn Anywhere, Anytime 
This is an online "training on-demand" course.  Whether it be your tablet, mobile, laptop – you can view this course any time, anywhere.
Accountability & Support 
When you join, you will get access to our closed Master Your Marketing Facebook Group where you will find likeminded photography business owners. We believe in collaboration over competition. The group is the perfect place to get the motivation you need to stay focused and the support if you get stuck.
Ready to Master Your Marketing?
$2990 AUS or 5 Payments of $598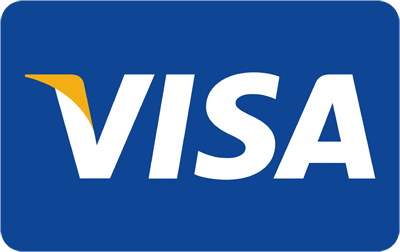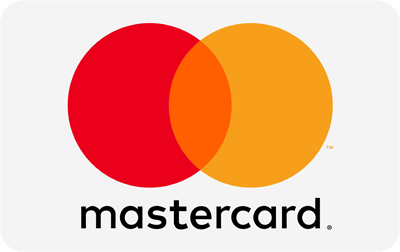 Try Master Your Marketing On Demand for 14 days with our
100% SATISFACTION GUARANTEE
Master Your Marketing On Demand comes with a 100% Satisfaction Guarantee. Our hope is that your business is transformed with the marketing strategies you learn through this training. We also expect you to give your absolute commitment and implement the strategies. That's way in order to be eligible for the 14 Day Satisfaction Guarantee, you must submit proof that you have done the training and implemented the strategies in your business.If you do the work, don't feel that it worked for you and submit your work within 14 days of purchase, we will promptly refund the course fee. However, if you do not submit evidence that you have done the work, completed the worksheets and implemented the strategies within the 14 day period, no refund will be issued. We want you to be a success and we believe wholeheartedly in this training, but if you don't feel it's for you or if you have any questions – please contact us.
Copyright © 2019 Mark Rossetto Photography Coach | Terms & Conditions | Privacy Policy